ASUS E451LD-XB51 Now Available
For notebook users that are on the road a lot, the ASUS E451LD-XB51 is a great new system. It's a little smaller than the P550CA-XH51 and comes with double the memory as the standard option. We love the anti-glare screen and that it still comes pre-installed with Windows 7 Professional.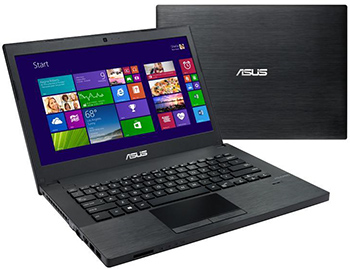 The ASUS E451LD-XB51 14" notebook is an ideal choice for users looking for a sleek and powerful business-class laptop. It comes standard with 8GB of memory (upgradeable to 16GB), 500GB hard drive, a DVD-RW drive, USB 3.0 Ports and a replaceable battery that should last up to 13 hours depending on your usage.
As part of the ASUSPRO line of business quality laptops, the E451LD-XB51 is designed and built to be more durable and goes through extensive pressure, drop, twist and shock testing. Accidents happen, fortunately the E451LD-XB51 comes with a three year warranty which includes one year of accidental damage protection. This covers one incident of accidental damage during the first year of ownership. There are some limitations to this warranty, but we've had a few clients who have needed the accidental damage protection in the past and it ended up saving them hundreds of dollars in repair costs.
We should note that ASUS excludes several retailers from their Accidental Damage Protection program. If you purchase this notebook from a reseller like DeskTech, you'll be good to go. But, you'll be out of luck (and probably pushed into buying a separate added warranty) if you shop at any of these stores: Best Buy, Office Depot/OfficeMax, Staples, Sears, Costco, Walmart or online auction sites.
What We Like
Intel Core i5-4200U Processor and Nvidia GT820 1GB DDR3 Video Memory
Chiclet Style Keyboard - Not all chiclet style keyboards are built the same, but the keyboard on the E451LD-XB51 was really nice. It has a slight angle making it more comfortable than others we've used and it is very easy to type on. And, it's spill-resistant to boot! We didn't test out the spill resistance, and don't recommend you trying it either.
The Fingerprint Reader works well and makes logging in and out of Windows a breeze.
What We Love
The ASUS E451LD-XB51 comes pre-installed with Microsoft Windows 7 Professional. This is awesome, because we aren't recommending Windows 8.1 to any of our clients. ASUS includes Microsoft Windows 8.1 downgraded to Windows 7 Professional, allowing you to stay with a familiar version of Windows while still being able to install Windows 8.1 later, if necessary. We still have high hopes for Windows 10!
The anti-glare screen is non-glossy (matte) and easy on the eyes. Plus, with a good resolution of 1366x768, you get plenty of pixel real estate without needing to zoom in to read web pages.
What Could Be Better
A solid state hard drive would make the boot and restart times faster. But, at this price, that isn't going to happen. You can always swap out the hard drive if you really want the extra speed.
The 4 pound published weight specification is not accurate. We've had a few of these in our office and the actual weight is 5.3 pounds. This isn't bad; it just isn't quite as light as all of the specs you'll find online regarding this notebook.
The ASUS E451LD-XB51 a great laptop for users that are on the road a lot or for those wanting a great laptop to use around their office or home.
Copyright 1996-2015 DeskTech. All rights reserved.